Campuses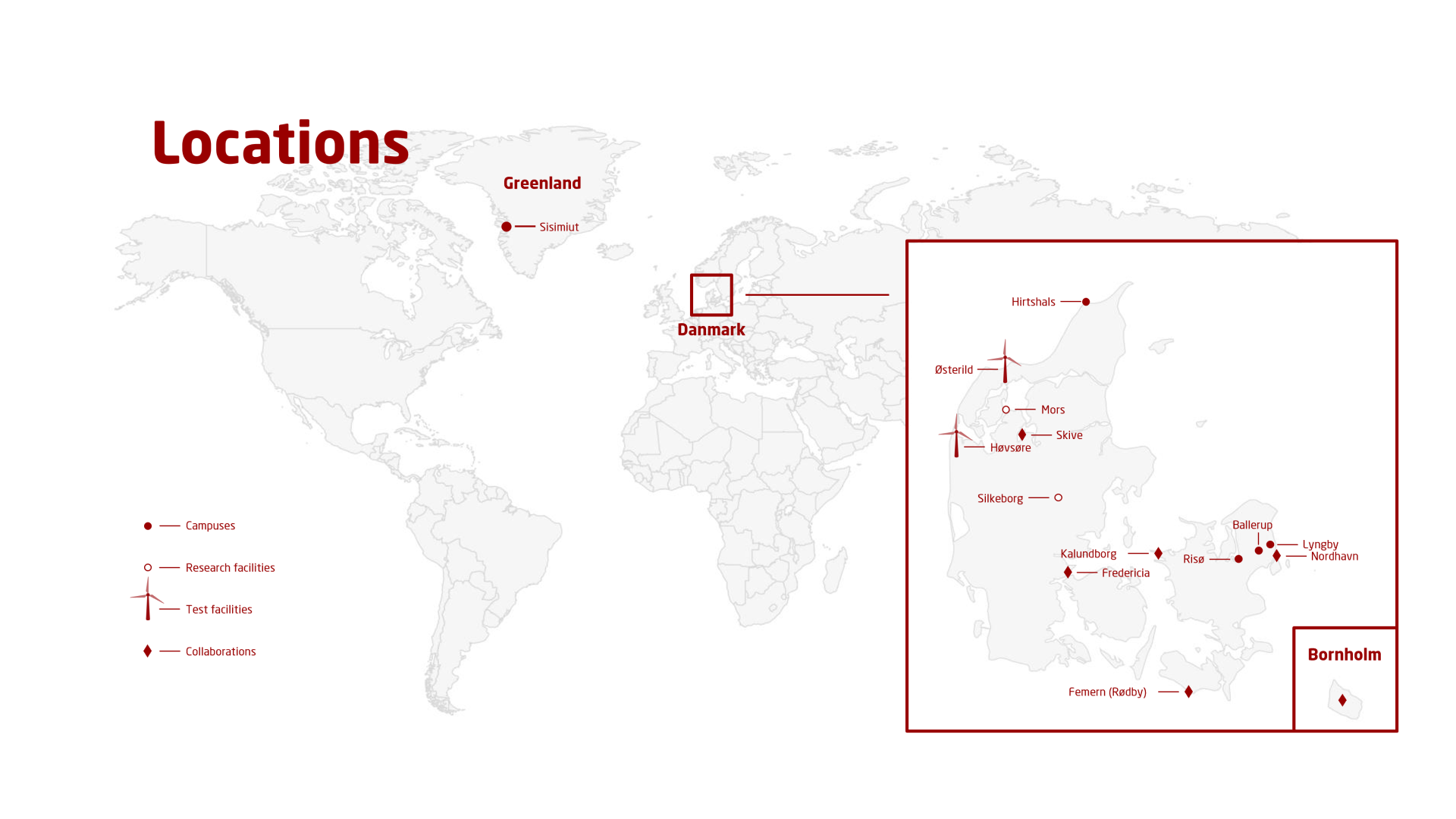 DTU, Technical University of Denmark, has research and test facilities in all parts of Denmark, including four campuses.
DTU Lyngby Campus
DTU Lyngby campus is located 15 km north of Copenhagen. The campus covers a 106-hectare site, and is landscaped with wooded areas, sports fields, inner courtyards, and gardens.
DTU Ballerup Campus
DTU Ballerup Campus is located 10 km west of Copenhagen, and is home to many of our BEng students.
DTU Risø Campus
DTU Risø Campus is located 40 km west of Copenhagen and is the site of much of DTU's ground-breaking research in energy technologies.
DTU Hirtshals Campus
DTU Hirtshals Campus is located in northern Denmark, and is home to research in aquaculture and fisheries technology as well as two DTU study programmes.
DTU Sisimiut Campus
DTU Sisimiut Campus in Greenland is home to both research as well as BEng and MSc Eng students who follow our artic study lines.
Test sites and research facilities
DTU has three wind turbine test sites situated at DTU Risø Campus in Roskilde, Test Centre Høvsøre in Lemvig and the Test Centre Østerild close to Thisted.
DTU Wind has a total 16 test stands. All of the 16 test stands are rented by some of the best wind turbine producers in the world.
In Hirtshals, DTU conducts research within aquaculture and fisheries technology. Hirtshals harbour is home port to DTU's ocean-going research vessel Dana.
The small island of Mors is home to DTU's research activities in marine life in coastal areas, particularly shelfish.
In Silkeborg you will find research activities in freshwater fisheries, ecology, and population genetics.
Transforming DTU
DTU is currently investing in a comprehensive transformation of the university's buildings and infrastructure.
Read more here (in Danish)
Evacuation procedure for DTU
DTU has a high focus on ensuring we have a safe and secure university. Therefore, DTU has a standard procedure for evacuating buildings. However, evacuation may - in some cases - be different if there are special conditions in workshops or laboratories, so evacuation instructions will be given locally.
Suppliers and contractors
Information for suppliers and contractors about invoices, tender opportunities, eForms. terms ect.