The SPS process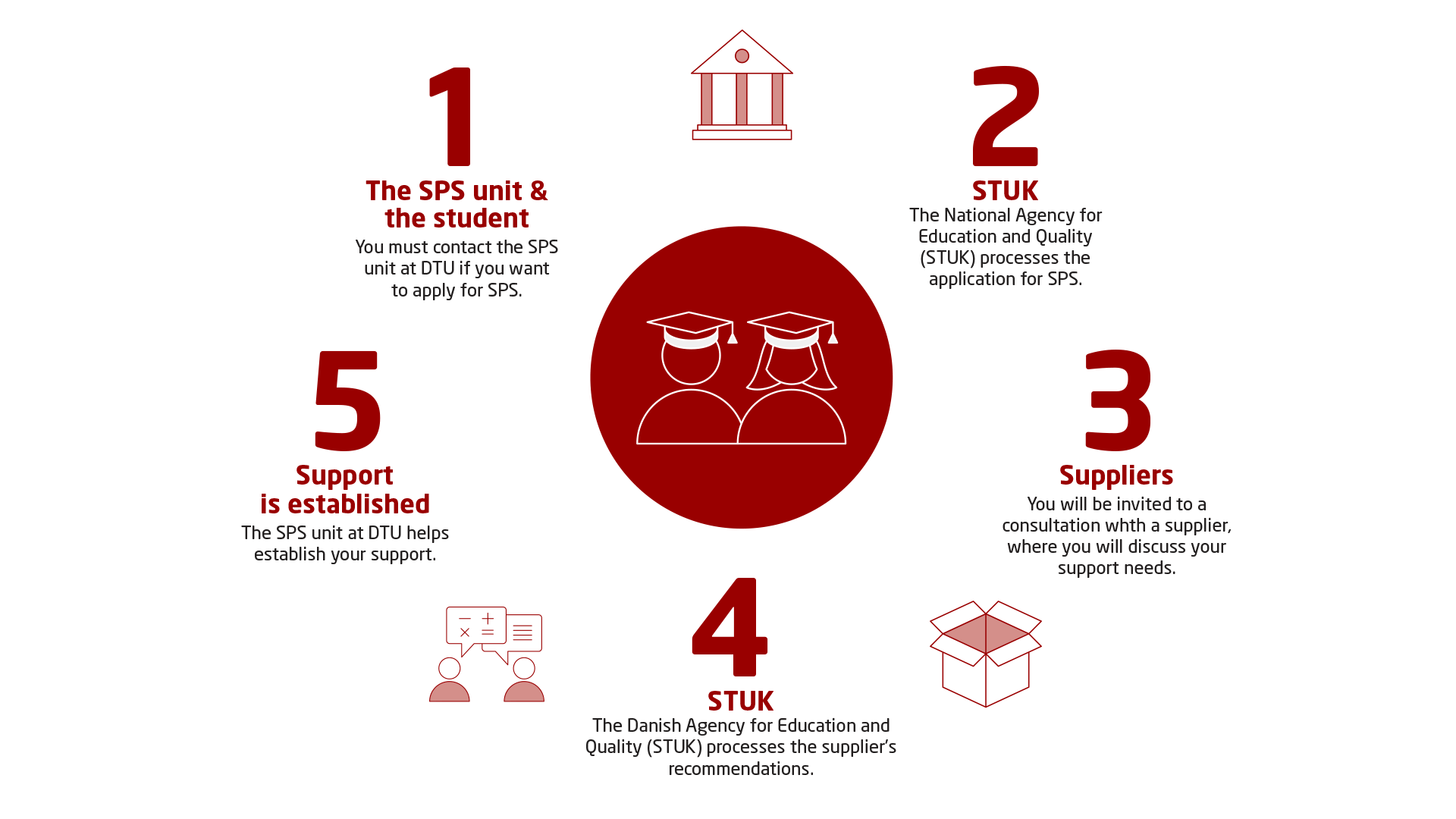 How and when do I get SPS?
You can regard the SPS unit as your administrative SPS coordinator. The first steps in most support processes will be an examination of your support needs. This consists of a consultation with a person who is an expert in precisely your functional impairment. The SPS unit at DTU therefore first applies for this consultation for you, and the SPS unit at DTU then applies for the support funds recommended by the expert.
Download a detailed description of the SPS process.
SPS is granted at six months' intervals from January to June and from July to December. If, for example, you have been granted 20 support hours in the spring, but you have not used all of them, they therefore cannot be transferred to the autumn.
Some students have a continuous need for support throughout the entire course of their studies, while others have varying needs. However, the following always applies: you can only be granted additional support for the next semester by actively contacting the SPS employees at DTU and telling them what and how you wish to apply for new support.
Applications for SPS can be submitted all year round, but—as a general rule—you must apply in June/July for the autumn semester and in December for the spring semester in order to benefit fully.
For how long can I get SPS?
SPS can be granted for a period corresponding to the prescribed time frame of your study programme plus 12 months. However, the total period of support (support framework) must not exceed 70 months (5 years and 10 months), even if you change study programmes. Nevertheless, it is possible to apply for an extension of the support framework, for example if the prescribed time frame of your study programme exceeds 70 months, in the event of illness, etc.
If you wish to apply for an extension, we can help you with this. Read more about the support framework.
What do I do when I no longer need SPS?
If you have been granted a certain number of hours of support in one or more semesters, but you have no need for support next semester, all you have to do is not apply. If you need support again at a later stage during your studies, you can always contact us and submit a new application. If you have borrowed physical aids and appliances, please remember that they also count in the total support period.
You are only entitled to receive SPS if you are enrolled on a study programme. Therefore, you must the SPS unit if you interrupt or complete your study programme. If your have borrowed any IT tools, they must be returned if you either interrupt or complete your study programme. You will receive a letter with instructions on how to return the IT tools. If you do not receive a letter, or if you are not contacted in any other way, you must contact the SPS unit.